Designer Spotlight: Blake Kuwahara
November 09, 2021
The Blake Kuwahara collection embodies the core elements which sustain our undying passion for eyewear: a stunning and unique array of designs, optimal comfort and functionality, each frame lovingly handcrafted by master artisans. It's the type of collection that, once a shipment arrives, the staff are quick to form an unboxing ceremony where we promptly unpack, then gush about the contents within.
It is a large collection of ophthalmic and sunglass frames which consists of many bold and exciting, but always wearable shapes. They are robust and durable and just the right weight, not heavy enough to hurt but just enough to portray a sense of classical quality. Kuwahara's frames are best known for their unique "frame inside a frame" concept, as shown in the "Owings" and "Merrill" models below.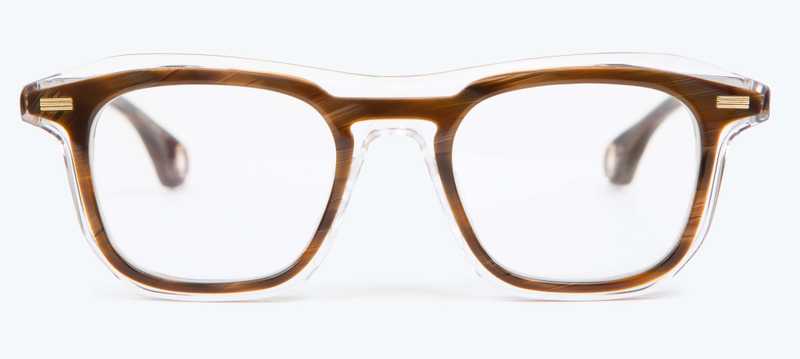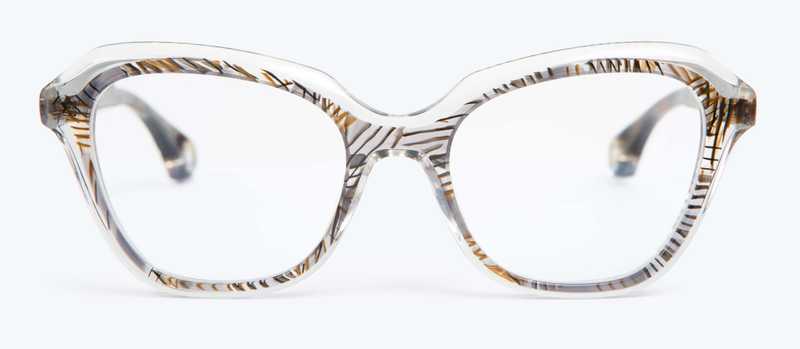 The designer himself has come to be known and celebrated as a pillar of the modern fashion landscape. He has been featured in such publications as Vogue, ELLE, Bazaar, GQ, In Style, Esquire and others. His designs are worn by celebrities Brad Pitt, Sandra Bullock, Robert Downey, Jr., Will Smith, Samuel L. Jackson and more. Yet, beyond the noise of accolades and international recognition, there is a warm and genuine soul that shines through in the granular detail of his work.
Needless to say, we were thrilled to learn more about the man behind the magic, who was kind enough to take some of our questions:
What inspired you to venture into eyewear design?
I had never really planned to get into eyewear design.  I'm an optometrist by profession, but after 3 1/2 years seeing patients, I wanted to pursue a more creative path.  It was only by pure luck that I met Dick Haft, the owner of Liz Claiborne Optics.  Without any formal experience in eyewear design, he hired me to be Creative Director for the company and soon thereafter, gave me the opportunity to create and design my own collection, KATA Eyewear.
Had you designed in another medium previously or have aspirations for design outside of eyewear?
I had some graphic design experience and was also interning at an interior design firm while at UCLA (undergrad), but nothing specific to eyewear design.  Dick felt that if I had the aesthetic sensibilities of color, proportion, and able to interpret a concept, that those skillsets would easily translate into designing eyewear.  The technical and engineering side of what we do, he thought, can be taught.  
You are famous for your "frame inside a frame" concept. Can you tell me a little bit about the unique magic that goes into creating your frames? 
The concept originally came about because I felt there was a void in the marketplace for frames that were artful yet wearable.  Many of my friends are in the creative world: architects, designers of all sorts, photographers, etc.  They all have a creative side to what they do, but also a more serious business side.  I wanted to design a collection that spoke to both worlds. I wanted to literally combine two frames into one so that the inner silhouettes were wearable and familiar, but the outer frame gave it its special character and uniqueness.  The actual production process is quite complicated and labor intensive.  The inner and outer frames are milled separately and then laminated together using a proprietary process of heat, pressure, and solvents.  The frames need to sit and cure for two months so that there are no bubbles, seams, or bleeding before they go through an extensive milling and polishing process.  From start to finish, it takes about 7 months to produce one frame.
We absolutely love your social media feed. Compared to many designers, we feel that you are more open to letting your audience really get to know you. Any fun adventures planned in the near future? 
Thanks!  I'm not a digital native and when I reluctantly started our Instagram account, I was hesitant to post anything personal.  I still try to be rather discreet, but I also think that it's important the people know a little more about me, what inspires me, and my philosophical approach to design since it informs my collection. 

I'm desperately waiting for the borders to open up in Japan.  It's been nearly 2 years since I've been able to travel there due to COVID restrictions.  It's so much more efficient to work directly with our factory in realtime, but I also miss the food and shopping!
Thank you so much for your time. We love the collection so much and are always excited and proud to showcase it to our customers!
Blake Kuwahara is available at both Modern Eye locations. Please call ahead to reserve a time to try on some frames from this collection.
All photos courtesy of Blake Kuwahara